Quite some time ago, a member of my CoachChic.com site linked a USA Hockey article to his Facebook wall.  As often happens in that setting, there was a lot of interaction under the original topic, but that conversation eventually turned to talk about different things — like the different kinds of hockey speed.  Ya, the different kinds of hockey skating speed.
Scott wasn't saying the following was so, but he ultimately pointed to most youth coaches believing that speed is THE most important quality a hockey player can have.  Hmmmmmm…  I could go along with his perception of the average youth coach, probably only adding that most of them are done a huge disservice by seminar speakers and YouTube.com posters who too often talk in generalities.
In the case of seminar speakers, most of them should know what they're talking about.  What they might NOT consider is who they're talking to.  In other words, I wouldn't usually tell the Mite coach the same as I would a Bantam or Midget coach, because their kids are at drastically different points in development.  Personally, I usually told seminar audiences how to sort through the information I was sharing, that according to the age group in their charge.
When it comes to YouTube.com, well…  A good many of the folks who post there would never be asked to speak at a high level symposium.  No, a lot of them played the game some, and just decided to hang out a shingle — no scientific background, and probably no track record for solving problems and bringing lots of players to advanced or elite levels.
As we got rolling in that Facebook discussion, I raised the point that most coaches have different definitions of speed.  In other words, were we talking about how fast a guy is in a straight line?  (If so, maybe scouts could throw away their notes, and purely rate players with a stopwatch.)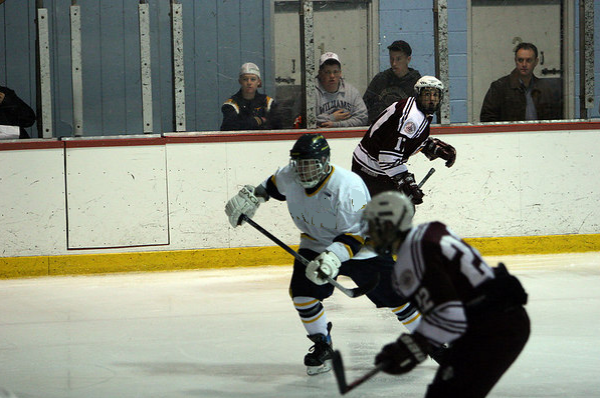 As the conversation went on further, Scott did a very smart thing.
I mean, he first posted a list of the winners at the NHL's Fastest Skater competitions over more than 15-years.  Trust me, that there were some great players on that list.  However…
He then posted a list of Art Ross Trophy winners, or the National Hockey League players who led the league in scoring points over the same span.
Guess what…  Not a single player on the first list was on the second list.  And, if that didn't solicit a, "Hmmmmmmm…" in you, maybe you ought to read that underlined sentence again.
I'll tell you another thing…  While all the players on that top scorers list would be considered good to great skaters, that's not what they're really noted for.  No, I'd suggest the likes of Lemieux, Gretzky, Jagr, Iginla and Crosby would be noted more for puckhandling and/or finishing skills, and we'd be able to say about many of them, "They had moves!"
When it comes to skaters on that scorers list, I'm sure none of them would be considered slow.  However, "quickness" is something most of them did have.  My point is, that flat-out speed — and especially speed without the puck — may not exactly predict success in our game.
Again, that first list — of fastest skaters — contained plenty of great players.  However, what I'm trying to point out here is that there's a whole lot more to effective hockey play than just straight ahead speed.
As for the second list — of top scorers, I'd say that most could fly, but with the puck, and they could also fire darts on the move.  But the thing I believe separates the truly dangerous attacker from a pure skater is the ability to employ "deceptive speed" — with the puck, or when trying to shake a checker.  Yes, what I'm getting at are "tricky fast" players.
Oh, they won't necessarily win races down the ice, but they have a knack for lulling defenders to sleep, and then suddenly leaving those defenders standing and stunned in the middle of game action.
Okay, so how do I suggest teaching the different kinds of hockey speed?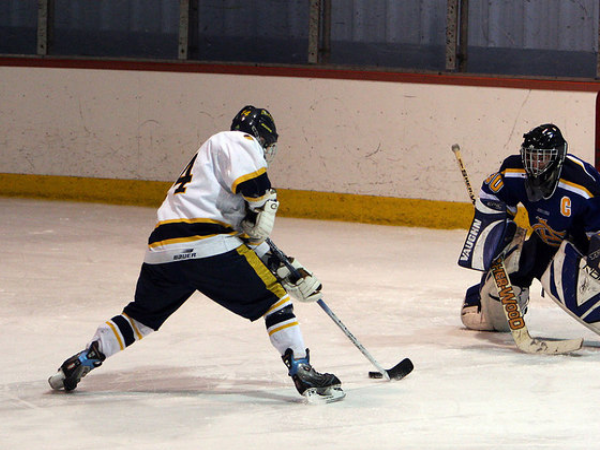 Up front, I wouldn't abandon technique work that helps a player be fast on a straight line. Hey, that's still an important quality, even if I'm suggesting it isn't the primary one. (Skating mechanics are important here, as well as the principles involved in "Over-speed Training".)
Next, I'd spend a great deal of time on "quickness". Yes, to me it's good to be fast over a longer distance, but it's even more important to be cat-like in smaller areas (where more important races are usually won or lost).  I happen to be a big fan of agility ladder work for this.
Those qualities on their way to being established, perhaps the most difficult challenge is in developing the earlier noted deceptive speed.  Ya, it's a little more difficult to get across.  That's why I've found it helpful to initially have a chat with a player, and explain exactly what it is we're looking for…
I mean, we're talking about that player moving such that he is looking as if he's going all-out, while he's really holding back just a little. In other words, maybe he's going at about 90%, while a nearby defender is thinking that he's at his max.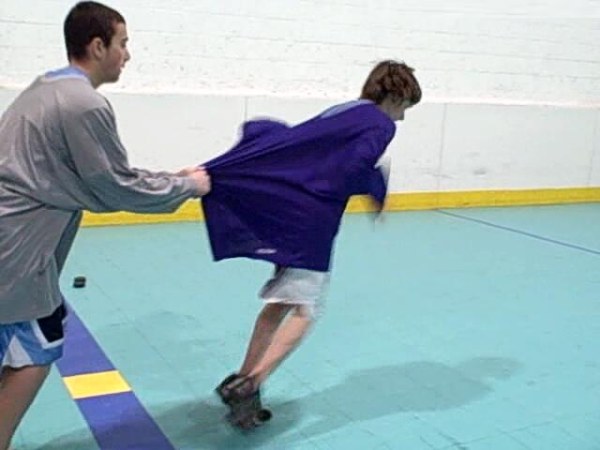 I'd initially do this part of drilling without a puck. And I'd have the player circle the rink on his own — usually weaving around or crossing to one side and the other.  With that, the skater would attempt to alternate speeds — going fairly fast to all-out, fairly fast to all-all. (While I might be describing an on-ice session here, this could as easily be practiced away from the ice.)
Perhaps the most difficult part of this skill is that a player has to feel each change inside.  So I'll ask my players to "show me" the difference as they go by.
In the earliest stages of training, a coach and player might not always agree.  In other words, the player might be thinking he put on a burst, while the coach isn't seeing that change in speed at all.
At some point a puck can be added to this kind of training, but the coach might expect that a player can go backwards a bit, at least at first.
Truly, learning this skill might take a while for some players, but learning to do it should change their game forever.
Then, wanting to put this all into perspective once again…  There really are different kinds of hockey speed required in our game.  For sure, I'd say it's worthwhile for a player to be able to fly on a straight line.  However, skating qualities like agility in all four directions and using deceptive speed will set a player apart from most others.
Lastly, is there a chance I'm the first to tell you this kind of stuff?  🙂  Ya, I'm told that a lot — after folks have wasted countless hours on YouTube.com and elsewhere.
*
I'll often use my grandson as an example, this time with his prep school recruiting video from a few years back.  What you might discover from watching is that: 1) he's not the fastest player in the world when it comes to a straight line, but 2) he is deadly with the puck — and extremely quick and deceptive.